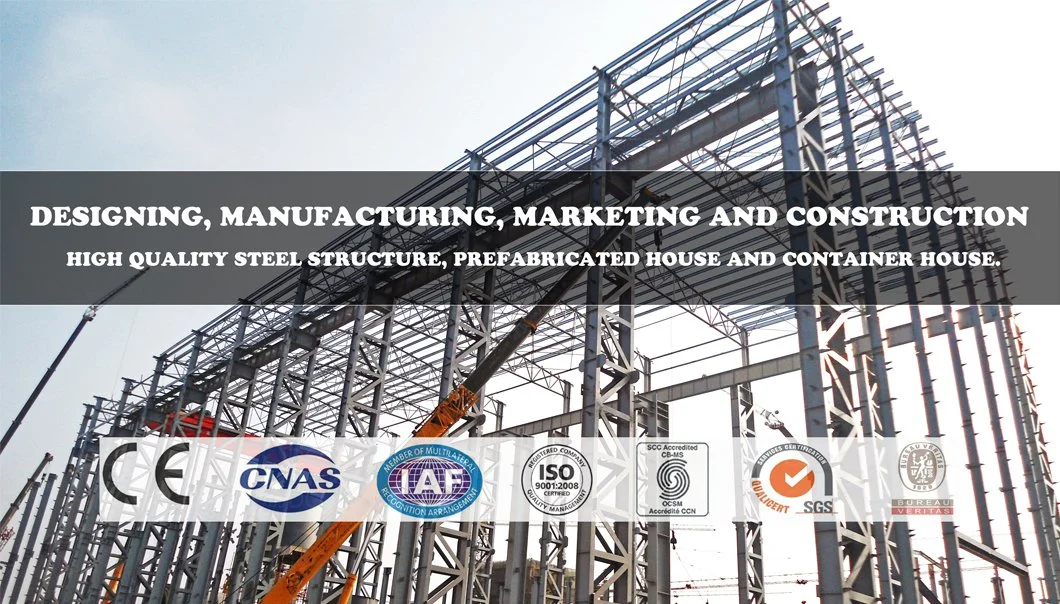 1. Specification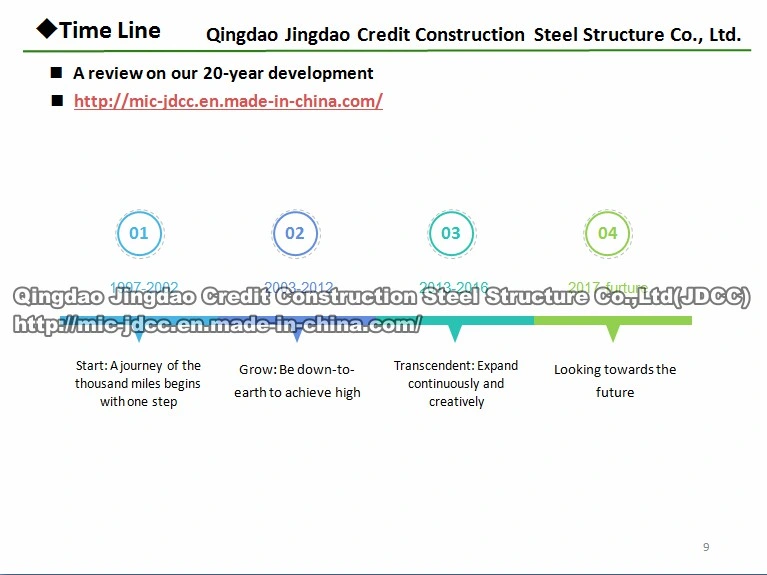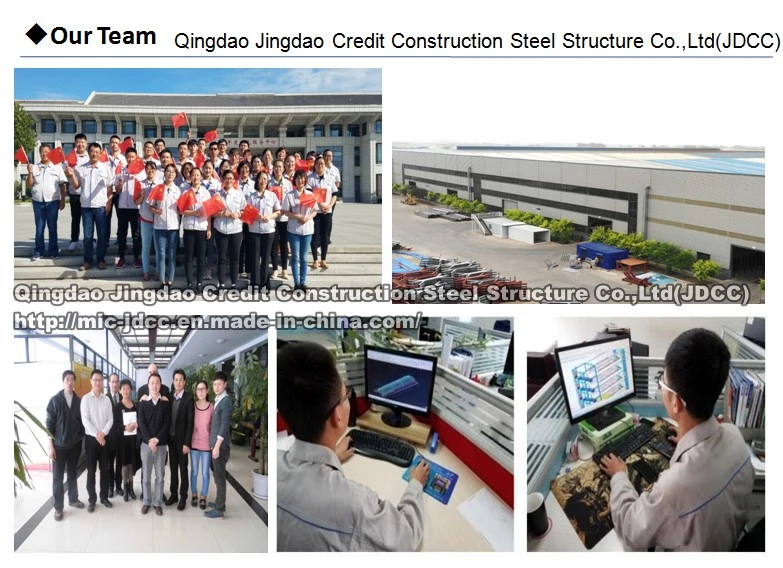 Items
Specification
Main Steel Frame
Column
Q235, Q345 Welded H Section Steel
Beam
Q235, Q345 Welded H Section Steel
Secondary Frame
Purlin
Q235 C and Z purlin
Knee brace
Q235 Angle Steel
Tie Rod
Q235 Circular Steel Pipe
Brace
Q235 Round Bar
Vertical and Horizontal Support
Q235 Angle Steel, Round Bar or Steel Pipe
Maintenance system
Roof Panel
EPS Sandwich Panel / Glass Fiber Sandwich Panel /
Rock Wool Sandwich Panel / Pu Sandwich Panel /Steel Sheet
Wall Panel
Sandwich Panel / Corrugated Steel Sheet
Accessories
Window
Aluminum Alloy Window / PVC Window / Sandwich Panel Window
Door
Sliding Sandwich Panel Door / Rolling Metal Door / Personal Door
Rainspout
PVC
Live load on Roof
In 120kg/Sqm (Color steel panel surrounded)
Wind Resistance Grade
12 Grades
Earthquake-resistance
8 Grades
Structure Usage
Up to 50 years
Finishing Options
The vast array of colors and textures available
Paint Options
Alkyd painting, two primary painting, two finish painting
(gray paint, red paint, white paint, epoxy zinc etc.) Or Galvanized.



2. Pre-engineered Logistic Warehouse/Steel Structure Warehouse

A. Steel Framework: H section steel as columns and beams; C purlins and supporting parts

Surface Treatment of Steel Framework: Painted

B. Roof Cladding: Single-skin Color-coated Steel Sheet/Steel Sandwich Panel with good quality of insulation;

C. Wall Cladding: Single-skin Color-coated Steel Sheet/Steel Sandwich Panel with good quality of insulation

D. Door: Sliding Door with Canopy/Rolling-up Door

E. Window: PVC Window/Aluminium-alloy Window

F. The height of the Brick Wall: 1.2m or other height option

G. Other Options: Roof Vent/Roof Ventilation/Transparent Sheet/Gutter/Downpipe/Lifting Crane, etc

3. Product Description

Prices of Structural Steel Warehouse can vary widely from one day to another. Having a good estimate done is crucial to be the low bidder on the job. We will present you with some tips and example on how to get the best estimate for the structural steel warehouse.

4. Product Details:

Primary Framing Elements-columns, beams and all primary members are made by H section steels- hot rolled section steel/ welded section steel, which will be bolted together at the site. A factory primer and facing paintings are applied to get the better anti-rusting effect of primary framing elements.
Secondary Framing-Purlin, Tie Bar, Roof, and Wall Support are formed as secondary framing

A. Bracing
Round steel is supplied with knee bracing and other supporting parts that need portal framing, which will improve the stability and durability of the whole structural building.

B. Cladding
Roof and Wall are covering of color-coated corrugated steel sheet or steel sandwich panel, hot dipped with zinc and aluminum compound, that is fixed to the outside of the structural building to protect it against bad weather or to make it look more attractive and last for generations.

C. Windows and Doors
Windows: Plastic Steel Window/Aluminum-alloy Window
Door: Sliding Door/Rolling Door

D. Other Options
Gutter, Downpipe, Transparent sheet, Ventilator, and Bridge Crane will be fitted according to the client's requirements


5. Warehouse construction point:

1) The wall's height and width scale.

2) The position, quantity, and size of the doors and windows selected materials and colors.

3) Construction accessory's scale, such as roof, wall, etc.

4) House specification and scale, such as construction entrance, office, attended the district.

6. Advantages
(1). Free to design architectural drawings for you;
(2). Features: Fast and flexible to assemble, safe, thermal and noise insulation, water proof, and fire prevention;
(3). Cost-effective: Fast and easy installation greatly shorten the construction time which reduced the costs;
(4). Durability: The whole structure is easy in maintenance, which can be used for more than 50 years.
(5). Perfect design: Perfect design completely avoids leaks and water seepage. Meanwhile, it's also in line with the national level of fire prevention.
(6). Carrying capacity: can resist the impact of strong wind and seismic performance and bears heavy snow loads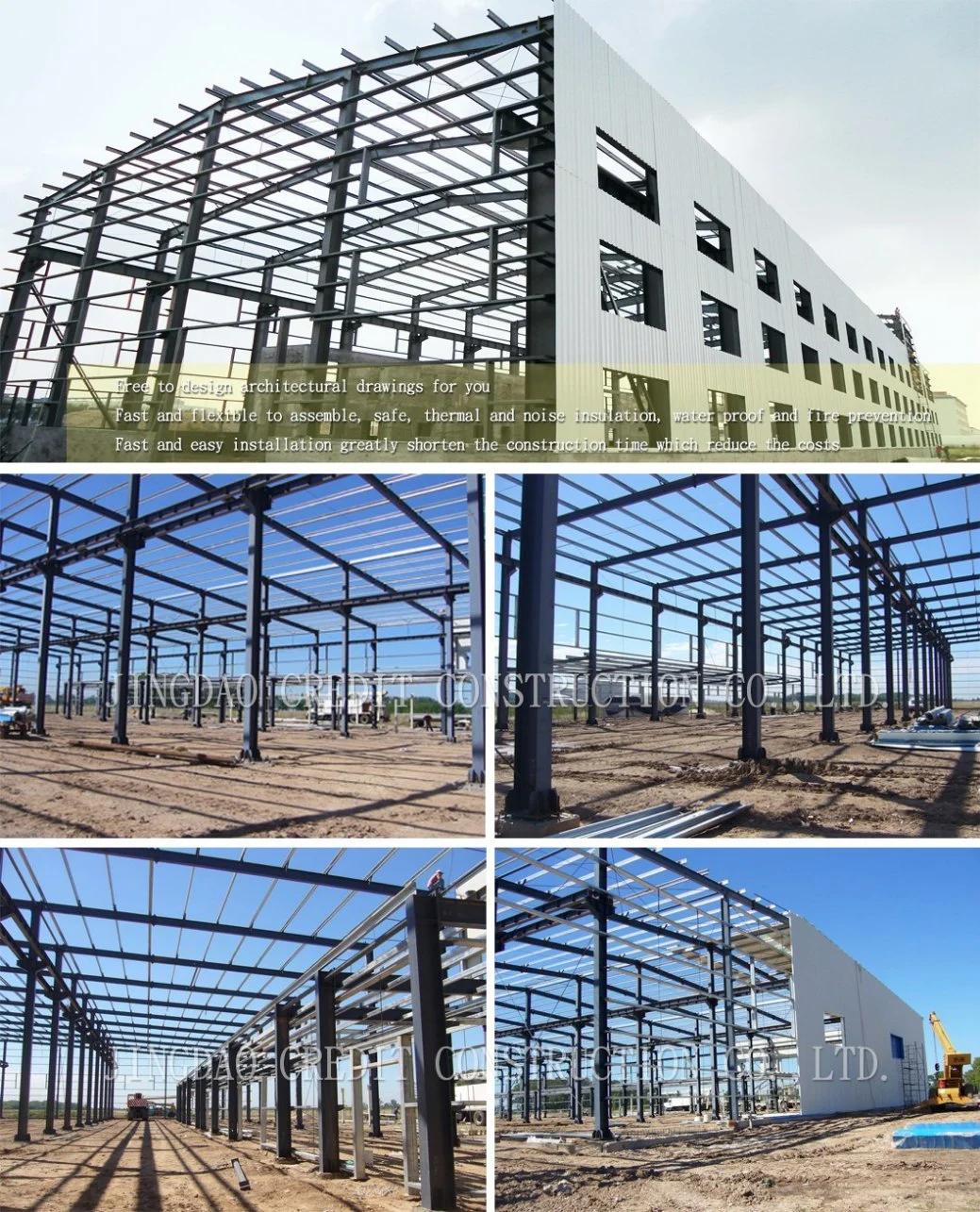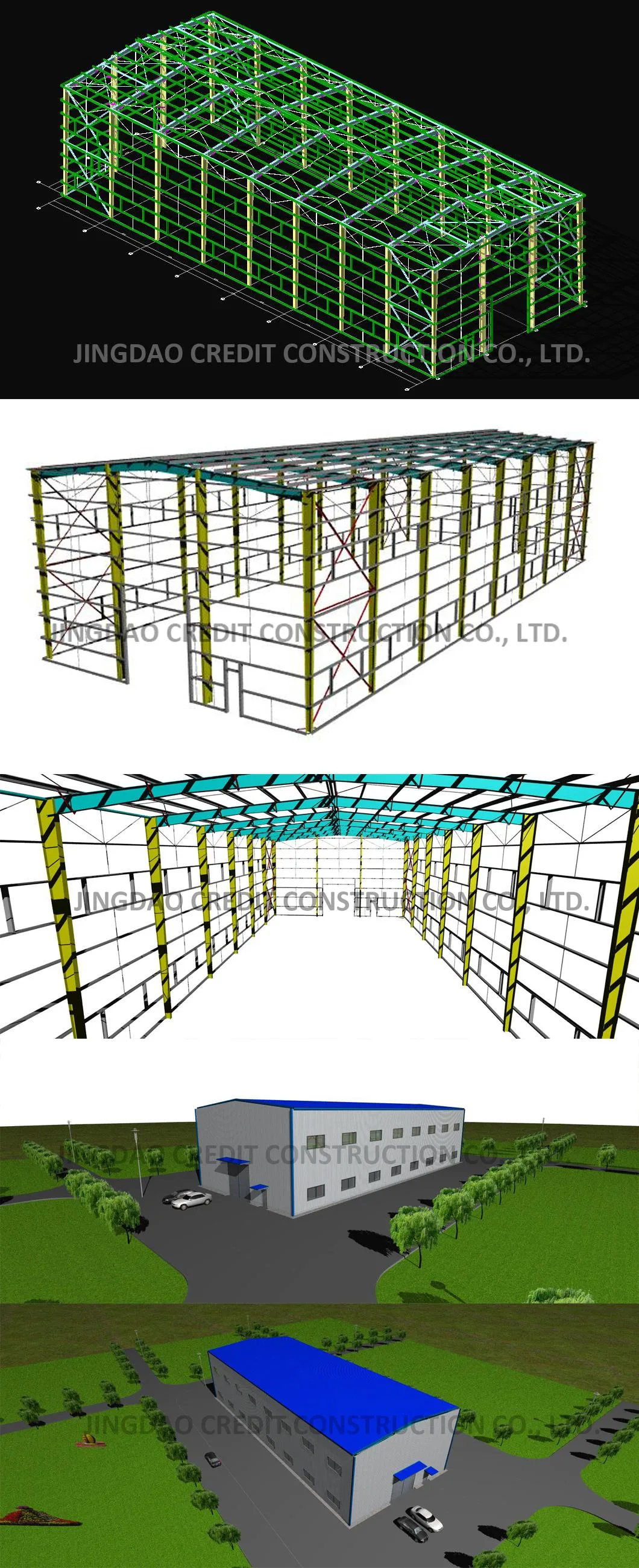 7. Market:
Products have been all over the country more than 20 provinces, municipalities, and autonomous regions, and have been exported to Europe, North America, the Middle East, Africa, Asia, and other countries and regions, the widespread use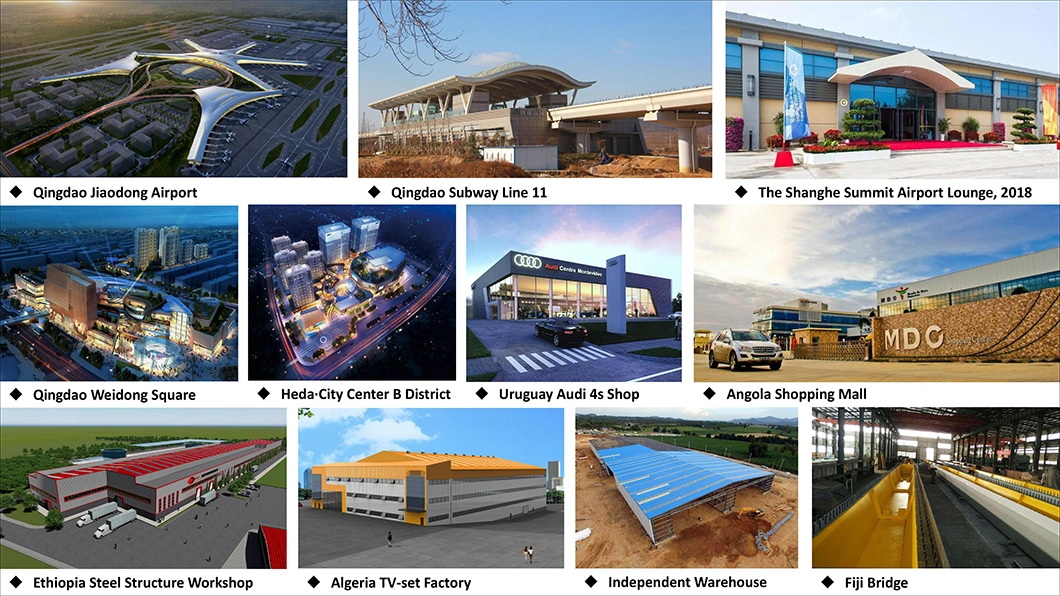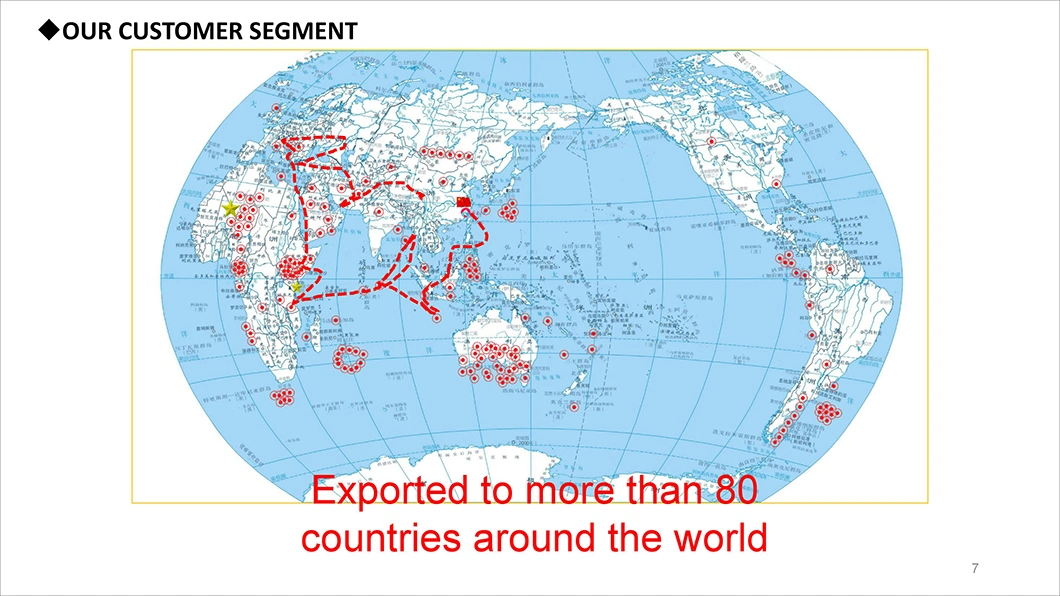 Partial List of Steel Structure Projects
No.

Project Name

Building Type

1

Qingdao New Airport Comprehensive Transportation Center and Parking Building Engineering Steel Pipe Column

Truss

2

Qingdao Blue Silicon Valley Crossing Bridge Steel Structure Engineering

Truss

3

Uganda in the Ethiopian Medical Park

Door-style Steel Structure

4

Qatar Logistics Park

Door-style Steel Structure

5

Dubai Workshop

Door-style Steel Structure

6

Qingdao Xinuo Co., Ltd Workshop

Door-style Steel Structure

7

Qingdao Xinxiu Logistics Park 1#, 2#, 3#, 4#, 5# warehouse workshop

Door Steel/Frame

8

Shandong Oruijin Packaging Project Co., Ltd.
Annual production of 1 billion aluminum two-piece cans

Truss

9

Zhenghe Industrial Co., Ltd. Agricultural Machinery Chain Workshop

Door-style Steel Structure

10

Qingdao Henry Furniture Co., Ltd. 4#, 5# Workshop Engineering

Frame

11

Qingdao Thunder Heavy Industry Co., Ltd. Metallurgical Automatic Transmission Equipment Assembly Base Project

Heavy steel lattice column

12

Qingdao East Asia Industrial Co., Ltd. Integrated Plant Project

Door-style Steel Structure

13

Qingdao Yujintian Renewable Resources Co., Ltd. 3#, 4# Steel Structure Workshop Engineering

Frame

14

Sanshandao Gold Mine 8,000 tons/day exploration and construction combined project

Heavy steel lattice column/truss

15

Qingdao Puhua Logistics Co., Ltd.

Door-style Steel Structure

16

SM Zibo Xichuan City Square Multi-storey Steel Structure Installation Project

Frame

17

Shandong Electric Power Staff Training Base

Truss

18

Heda Center City Steel Structure Gallery and Modeling Project

Rigid steel bone, heterosexual structure

19

Qingdao Lisong District Weidong Leke City Steel Corridor Project

Truss, heterosexual structure

20

Uruguay Grain Depot

Door Steel/Frame

21

Pakistani Workshop

Door Steel/Frame

22

Panama Warehouse

Door-style Steel Structure

23

Uruguay Audi 4s Shop

Frame

24

Niger Military Aircraft Hangar

Truss

25

Costa Rica store

Box Beam

26

Algeria Factory and Office

Frame

27

Qatar Farming Factory (Chicken House)

Door-style Steel Structure

28

Ethiopian Factory Villa

Door-style Steel Structure

29

Venezuelan Villa

Door-style Steel Structure

30

Brazilian Shipyard

Box Beam

31

Ecuadorian Farming Factory

Door-style Steel Structure

32

Pingdu Honghua Rubber Factory Mixing Workshop

Door Steel/Frame

33

Rizhao Sanbao New Factory Construction Project

Frame

34

Hisense Logistics Park 1#, 2# Warehouse Workshop

Frame

35

"JIndi Century City" commercial project (Southern Phase II) project

Grid

36

Qingdao Expressway Intelligent Traffic Safety System Engineering

Box Beam

37

Annual production of 200,000 tons of lightweight glass products

Lattice Column

38

Qingdao Kano Ceramic Steel Structure Factory

Door-style Steel Structure

39

Yulong Group Co., Ltd. Warehouse Storage Logistics Construction Project 5#, 6# Warehouse

Door Steel/Frame

40

Qingdao Baichuan Tongda Machinery Co., Ltd. Workshop

Door-style Steel Structure

41

Qingdao Hengmai Xinte Energy Technology Co., Ltd.

Door-style Steel Structure

42

Jimo Zhaolong Door and Window Workshop Steel Structure Engineering

Door-style Steel Structure

43

Qingdao Tianrui Animal Husbandry Technology Co., Ltd. Workshop Engineering

Door-style Steel Structure

44

Qingdao Qingping Energy Saving and Environmental Protection Co., Ltd. Workshop

Door-style Steel Structure
8. Company Introduction:

We are a professional enterprise specialized in designing, manufacturing, marketing and construction high-quality steel structure, prefabricated house and container house. We have professional steel structure engineering contracting first class qualification, with more than 22-year-limited warranty in steel building manufacturing and design.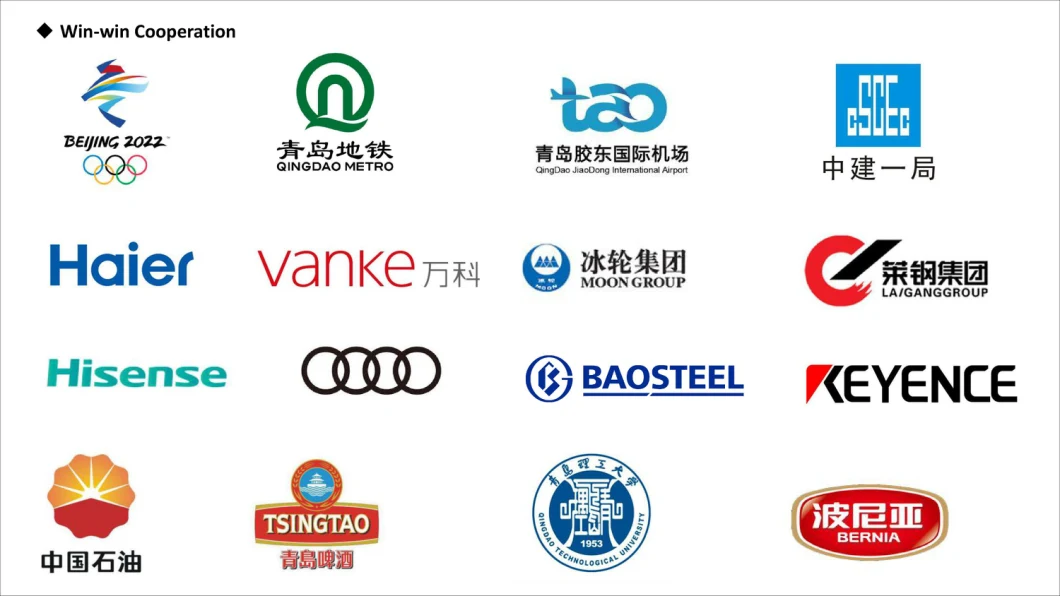 Welcome to our Company
If you are looking to build a new manufacturing building or just need to expand your existing one, you have come to the right place. If your manufacturing needs are simple or highly complex, We can show you the perfect solution for your steel manufacturing buildings.
A steel manufacturing building has many advantages over conventional construction. Steel manufacturing buildings are resistant to fire, wind, water, snow, and seismic activity as well as most pests such as termites.
One of the great advantages of a pre-engineered steel building is that by using steel you can maintain a clear-span of up to 300 ft wide. By having a large space that is column-free you gain the flexibility to satisfy even the most complex space design needs while still maintaining an obstacle-free environment. If you have some flexibility and don't mind having columns, a multi-span metal building Frame Design can save you money.
9. FAQ
Q: You are manufacture factory or trading company?
A: We are manufacture factory. And you are welcomed to visit us for inspection. The quality control flow will show you our professional. Also, you will enjoy the best quality and competitive price.

Q: What's the quality assurance you provided and how do you control quality?
A: Established a procedure to check products at all stages of the manufacturing process - raw materials, in-process materials, validated or tested materials, finished goods, etc. SGS, BV and other testing are available for us.

Q: Can you offer designing service?
A: Yes, we have more than 10 design engineers. We could design full solution drawings as per your requirements. They use software: Auto CAD, PKPM, MTS, 3D3S, Tarch, Tekla Structures(Xsteel)V12.0.etc.

Q: Do you offer to guide installation on site overseas?
A: Yes, usually we will send you the detailed installation drawing, if you need, we can provide the service of installation, supervision, and training by the extra. We can send our professional technical engineer to supervise installation on site overseas.


10. Customized design is welcome, it would be better if you could provide the following information:

1. Location (where will be built?) _____country, area
2. Size:Length*width*height _____mm*_____mm*_____mm
3. Wind load (max.Wind speed) _____kn/m2, _____km/h, _____m/s
4. Snow load (max.Snow height) _____kn/m2, _____mm
5. Anti-earthquake _____level
6. Brickwall needed or not If yes, 1.2m high or 1.5m high
7. Thermal insulation If yes, EPS, fiberglass wool, rockwool, PU sandwich panels will be suggested; If not, the metal steel sheets will be ok.The cost of the latter will be much lower than that of the former.
8. Door quantity & size _____units, _____(width)mm*_____(height)mm
9. Window quanity & size _____units, _____(width)mm*_____(height)mm
10. Crane needed or not If yes, _____units, max.Lifting weight____tons;Max.Lifting height _____m

Welcome to visit our factory, we assure that our products will satisfy your needs with designs, competitive performance price ratio and best services.